Basic concepts for reference intervals
---
---
Some useful links
---
---
Example of reference intervals for creatinine as a function of age and sex
---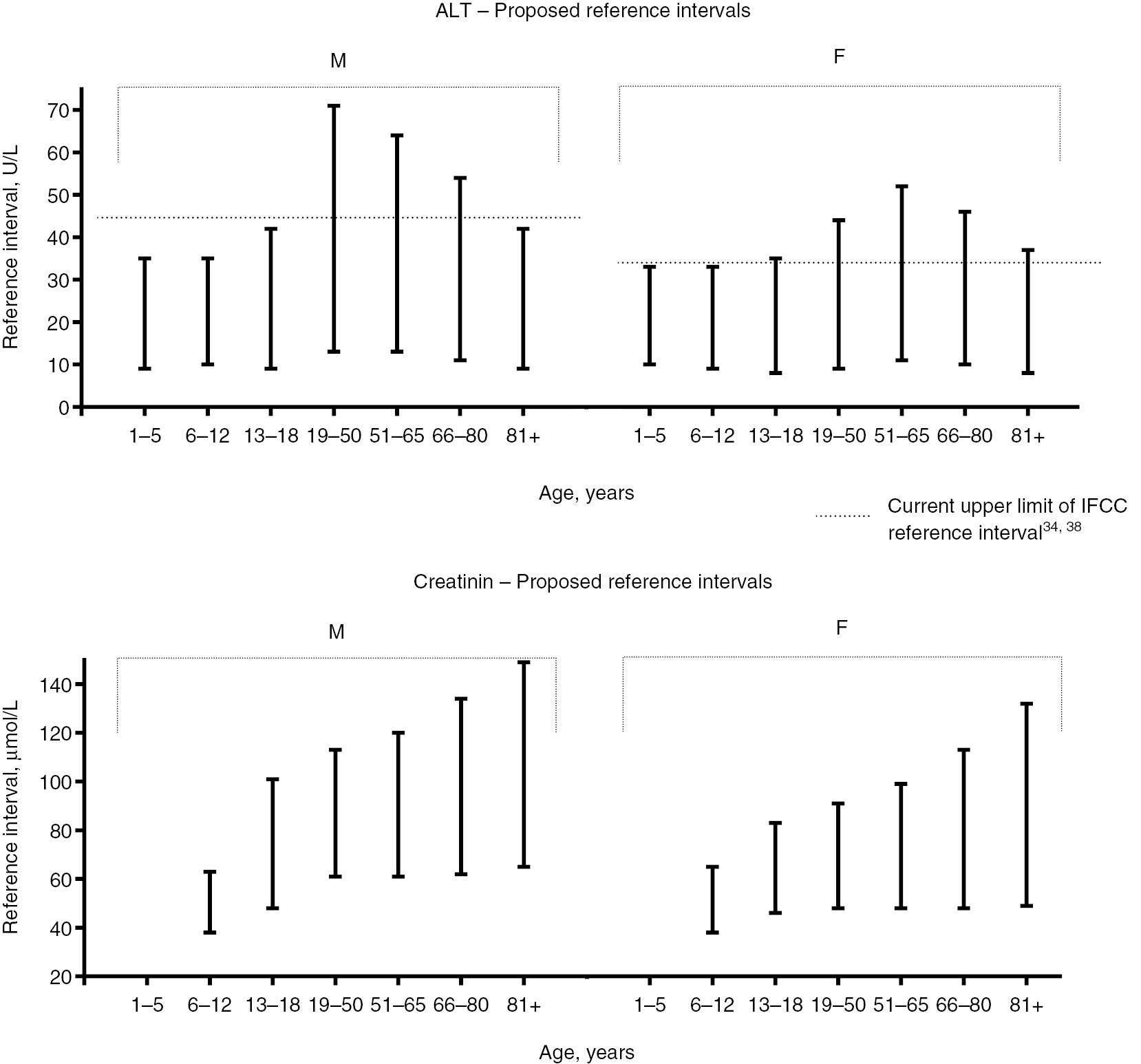 den Elzen, W., Brouwer, N., Thelen, M., et al. (2018). NUMBER: standardized reference intervals in the Netherlands using a big data approach. Clinical Chemistry and Laboratory Medicine (CCLM), 57(1), pp. 42-56. Retrieved 14 Nov. 2019, from doi:10.1515/cclm-2018-0462
Comparison of methods for obtaining a reference interval
---
As presented in the Concepts section, there are different methods for obtaining a reference interval. In this section, you can explore the results on samples of a normal distribution defined by its mean and sd. and compare the theoretical reference interval with the estimated intervals in the different methods.
---
---
A sample is randomly simulated from a normal distribution with the selected parameters. The reference interval are computed by three methods.
---
Reference interval for the original distribution
---
Reference intervals computed from the sample
---
---
Sample summary statistics
Compute the reference interval from a sample of a normal distribution
---
Here we consider you can indicate the mean and standard deviation of a sample for a biomarker of interest. Then, you can compute the corresponding reference interval using the Student's method. The results also show the 95% confidence interval of the reference interval limits. In the figure, we show thereference interval by a red line and the confidence interval for each limit in blue. In this case, we assume the sample comes from a normal distribution.
---
Estimated reference interval
---
95% confidence interval for each limit of the reference interval
Read an EXCEL file and compute the reference interval of one variable
---
You can select an EXCEL file by navigating thorough your file system. Then, you can visualize the variables in that file, select one and obtain the reference interval. As a disgnostic tool, we include the histogram of the selected variable an a QQ-plot for evaluating if the normal distribution is an appropriate model for that variable.
If the sample shows a clear non-normal aspect in its distribution, the Student's method results are not valid. In that case the CI of the ref.int. limits are also non valid.
---
---
First cases of the selected variable...
---
---
Reference intervals
---
Confidence intervals for
the ref.int computed
by the student's method
---
(c) Albert Sorribas 2019
Department of Basic Medical Sciences, Biomedical Research Institute of Lleida (IRBLleida), Universitat de Lleida